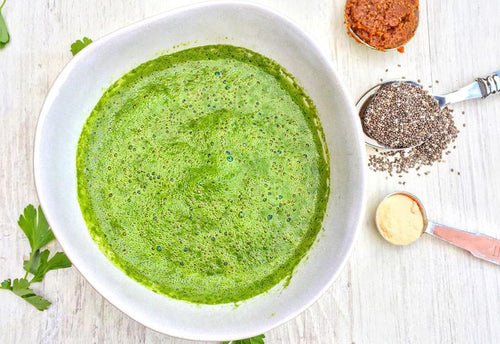 Super Green Soup
This vibrant Asian inspired soup is as good for you as it looks. Packed full of bone broth, spinach, miso, chia seeds and baobab, it makes a great nourishing and warming lunch. We love ours served piping hot, with a sprinkling of fresh coriander and cracked black pepper. 
Serves 2
INGREDIENTS: 
1 tbsp Aduna Baobab Powder
500ml organic bone broth (or stock)
150g frozen peas
100g fresh spinach
1cm piece of ginger, peeled
1 heaped tsp of miso paste
1 tbsp of chia seeds
cracked black pepper to season
METHOD:
Add the bone broth, peas and ginger to a saucepan and bring to the boil over a medium heat. Allow it to cook for a minute or so. Take it off the heat and stir in the spinach. The residual heat will wilt the spinach and reduce it in volume.
Transfer the hot liquid to a blender, add the miso, chia seeds and baobab powder and season with freshly cracked black pepper. Blend until smooth. Divide between two bowls and serve immediately.

The soup stores well for up to 3 days refrigerated in an airtight container and is also suitable for freezing. When reheating, just bring it to boil, don't allow it to cook for long periods as this will impair the flavour.
Enjoy!
Recipe by Whole Food Warrior