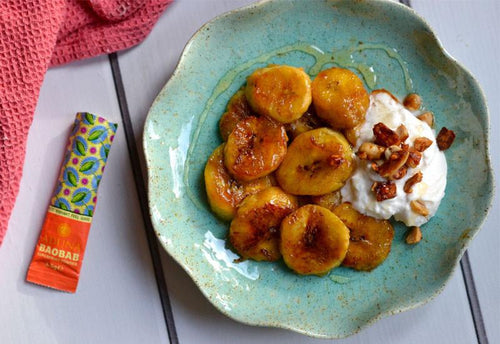 Sweet Coconut Oil Fried Plantains
We've been exploring using some other African ingredients in our cooking and plantain comes up time and again as a staple. Very similar to banana but starchier and less sweet, it holds up well in curries, stews and sweet dishes. One of our favourite ways to prepare it is sliced, tossed in coconut sugar and gently-fried in coconut oil. Here we've served it with yoghurt, honey and toasted nuts but it's great in savoury dishes too - try these fried plantains with herby rice, black beans, salsa and sliced avocado. 
Serves 1
Ingredients: 
1 tsp Aduna Baobab Powder
1 heaped tbsp coconut sugar
pinch of salt
1 ripe plantain (should be yellow with lots of black spots), sliced into rounds
To serve:
coconut yoghurt
honey
toasted peanuts
Method:
Whisk together the coconut sugar, salt and baobab in a medium bowl. Add the plantain slices and toss to coat.
Add a dollop of coconut oil to a pan over medium-high heat. Add the plantain slices and cook for approx. 2 minutes on each side, or until golden.
Serve with coconut yoghurt, toasted peanuts and a drizzle of honey.

Enjoy! 
Recipe by Aduna