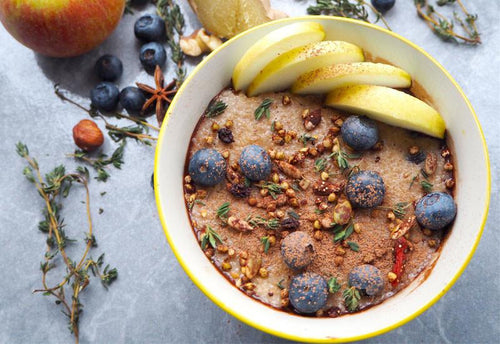 Sweet & Spicy Gingerbread Porridge
What could be better than gently spiced porridge that's packed with immune boosting goodness and tastes like gingerbread?! The perfect winter comfort food that is guaranteed to get you in the festive mood and satisfy you until lunchtime. This recipe was made using a pressure cooker, but a saucepan over heat would work just as well. 
Serves 1 
Ingredients:
1 tsp Aduna Baobab Powder
1 cup steel cut oats
1 tsp ground cinnamon
1 tsp ground nutmeg
1 tsp ground ginger
1 tsp ground cardamom
1 tsp grated ginger
1 1/2 cup coconut milk
handful diced apple
1/2 chopped plantain
1 tsp maple syrup
To serve (optional): 
sprinkle Aduna Super-Cacao Powder
handful fresh blueberries
apple slices 
fresh thyme 
Method:
Mix all the dry ingredients together in a pan. Add in the coconut milk, apple, plantain and maple syrup.
Mix well and transfer into a pressure cooker. Cook on a medium heat for about 10 minutes. Once you hear 2 whistles take off the heat and let it cool down.
Serve with your favourite toppings. 
Enjoy!
Recipe by LIFEINSATIABLE