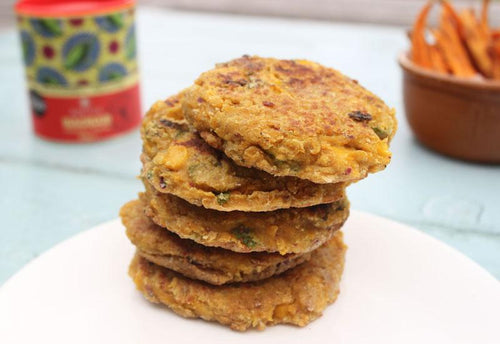 Sweetcorn, Turmeric & Baobab Fritters
These tasty, super-charged fritters are packed full of veggie goodness, fibre and vitamin C. Perfect for a quick weeknight meal or try cold with lots of salad for a nutritious lunch box. 
Serves 5
Ingredients: 
1 tbsp Aduna Baobab Powder
1 1/2 tins sweetcorn, drained
2 spring onions
1/2 red onion, roughly chopped
1 tsp ground turmeric
4 tbsp buckwheat flour
1 tbsp olive oil
handful of fresh coriander
juice of 1/2 a lime
salt + pepper to taste 
Method: 
Take one tin of sweetcorn and place it in a food processor with the rest of the ingredients. Blend until a chunky mixture forms (don't overblend), then stir in the other 1/2 tin of sweetcorn. 
 
Transfer the mixture to a bowl and use your hands to form the mixture into patties. If you it is too dry, add a splash of water. On the other hand if it is too wet, add a bit more flour to help shape them. 
 
Heat a little coconut oil in a pan over a medium heat and cook the fritters for about 5 minutes on each side until they are golden brown. 
 
Serve with sweet potato chips, guacamole and salad.
Enjoy!
Recipe by Aduna