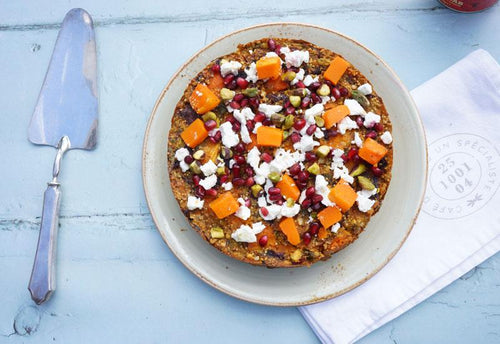 Squash, Baobab & Pistachio Nut Roast
Packed with a variety of nuts, fruits, spices and veg, this nut roast is a real showstopper that everyone will want a slice of. Full of flavour and texture, it makes a great meat-free alternative for Christmas dinner and complements traditional roast trimmings well. 
Serves 7
Ingredients:
1 tbsp Aduna Baobab Powder
2 tsp olive oil
400g butternut squash, roasted
1 red onion
2 garlic cloves 
50g dried apricots
50g dried cranberries
2 tsp cumin seeds
2 tsp coriander seeds
zest of 1 lemon
handful fresh coriander
1 tsp ground turmeric
1 tsp ground cinnamon
100g pistachios
100g almonds
100g quinoa, cooked  
2 eggs
pomegranate seeds
100g feta cheese  
Method:
Preheat the oven to 180ºC and line a 24cm loose-bottomed tart tin with baking paper.
Peel and roughly chop the onion and garlic and roughly chop the apricots and cranberries. Bash the cumin and coriander seeds in a pestle and mortar and roughly chop the coriander.

In a frying pan over a medium heat, cook the onion in a little oil until soft. Add the garlic and cook for another minute or so, then add all the spices and if needed, a little more oil. Cook for a couple more minutes then remove from the heat and set aside.

Place the pistachios and almonds in a food processor and pulse until they are broken down with a little texture. Tip into a bowl with the quinoa and dried fruit, then add the lemon zest, coriander and baobab. Beat and stir in the eggs and the onion mixture. 

Take the cooked squash and mash half of it (leaving the other half in chunks), then stir this into the mixture too. Spoon this into the prepared tin and press down to flatten. Cook in the oven for 45 to 50 minutes. 

Once cooked, carefully remove the nut roast from the tin and top with crumbled feta, pomegranate seeds and more pistachios. 
Enjoy!