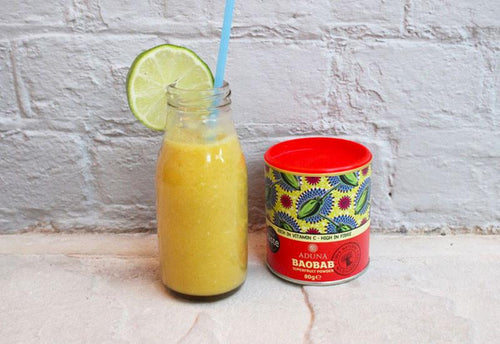 Tropical Turmeric & Baobab Smoothie
We know January can be a cold and depressing month, so we've teamed up with Hello Fresh to bring you a 'Daily Yay' in the form of a tropical golden smoothie. Packed full of vitamin C, antioxidants and fibre, prepare to sit back and be transported to a sunny, tropical island with every sip. Now what could be better than that?!  
Serves 1
Ingredients: 
2 heaped tsp Aduna Baobab Powder
1/3 fresh mango
1/2 medium banana
juice of 1/2 small lime
1 tbsp coconut cream 
1/2 tsp ground turmeric 
200-300ml coconut water, depending on desired consistency
desiccated coconut, to serve (optional) 
Method: 
Place all the ingredients in a blender and blend until smooth. Pour into a glass and top with desiccated coconut.
Enjoy!
Recipe by Aduna