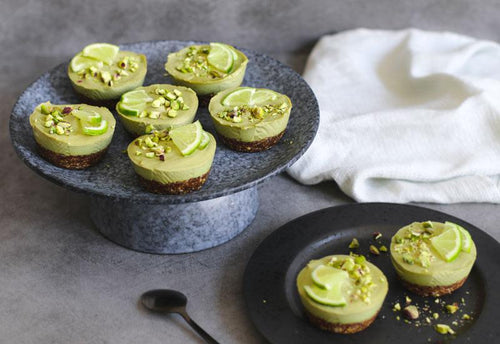 Vegan Avocado & Moringa Cheesecakes
We can't get enough of these mini raw cheesecakes. Smooth, creamy and packed full of nourishing ingredients, they're the perfect dessert to whip up to impress guests or for when you are craving something sweet. Plus, they are completely vegan so no one has to miss out! 
Serves 11 
INGREDIENTS:
For the base:
18 Medjool dates, pitted
3/4 cup almonds
1/4 cup pistachios
 tsp coconut oil
1/2 tsp pink salt
For the top:
2 tbsp Aduna Moringa Powder
8 tbsp agar-agar
1/2 cup coconut cream
1/2 cup water
1 cup cashews
3 avocados
1/3 cup maple syrup
1 lime, juiced 
3 tbsp pistachios, crushed (to serve)
7 slices of lime (to serve) 
METHOD:
To make the base, blend all the ingredients together in a food processor. Spoon around 3 tbsp of the mix into either cupcake cases or lined cupcake trays. Press the mixture down firmly into each and place in the fridge while you make the cheesecake layer. 
In a saucepan over a medium heat, combine the agar agar, coconut cream and water. Whisk together until the agar agar has completely dissolved.
Once dissolved, transfer to a blender and add the rest of the ingredients. Blend well until a smooth and creamy mixture forms. Pour the mixture over each of the bases and decorate with crushed pistachios and sliced lime. Place in the fridge or freezer to set. 
Enjoy!
Recipe by The White Chestnut