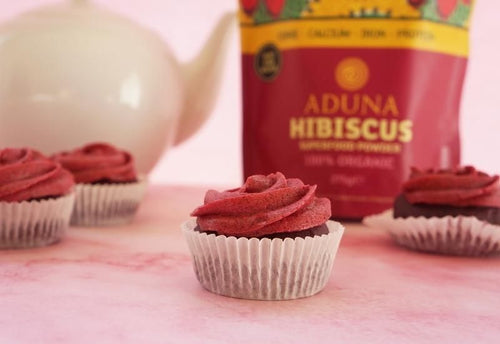 Vegan Hibiscus Cupcakes
Sweet, tangy and bursting with flower power, these soft and fluffy cupcakes are super-tasty and the perfect healthy afternoon treat.
Serves 10-12
Ingredients:
Hibiscus Sponge:
2 tbsp Aduna Hibiscus Powder
½ cup milk of choice – ½ in total
1 ½ tsp apple cider vinegar
½ tsp pure vanilla extract
⅓ cup pure maple syrup
3 ½ tbsp coconut oil
1 cup white, spelt, or gf flour
¼ tsp salt
1 tsp baking powder
Buttercream Frosting:
2 teaspoons Aduna Hibiscus Powder (or more to taste or for colour)
110g vegan butter, softened at room
200g organic powdered sugar, sifted
½ teaspoon pure vanilla extract
Pinch of sea salt
1-2 tablespoons unsweetened plant-based milk
Method:
Preheat oven to 180 C and line a cupcake tray with cupcake cases.
Whisk the hibiscus powder, milk, apple cider vinegar, vanilla extract, maple syrup and oil together and leave for at least 10 minutes.
In a large bowl, stir together the remaining ingredients, add the wet mixture and mix to form a batter. Evenly distribute the batter into the cupcake cases, filling them about two-thirds of the way up.
Bake for 10-12 minutes or until risen and a toothpick inserted into the cupcake comes out clean. Leave to cool.
To make the frosting, use an electric mixer to beat the vegan butter until fluffy (approx. 1 minute). Gradually add the sugar and mix on low speed until well combined and fluffy, scraping down the sides as needed.
Add the vanilla, salt, and hibiscus powder, and beat until smooth. If the frosting is too thick, add milk until you reach your desired consistency.
Pipe onto sponges and enjoy!
Recipe by Aduna