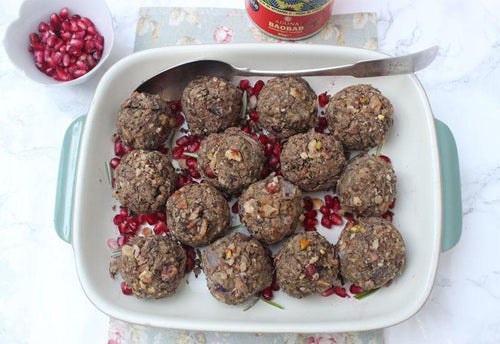 Veggie Nut & Apricot Stuffing Balls
A staple at any Christmas dinner, this festive stuffing is crunchy on the outside and rich and flavourful on the inside. Combining nuts and lentils, these balls pack protein and texture, whilst the baobab and apricot provide a delicious natural sweetness. We love ours sprinkled with pomegrante seeds and fresh herbs. 
Makes 19 balls
INGREDIENTS:
1 tbsp Aduna Baobab Powder
1 1/2 tbsp flaxseed
1 small red onion, roughly chopped
2 tsp coconut oil
50g pecans
50g pistachios
50g hazelnuts
275g green lentils, cooked & drained
25g wholemeal breadcrumbs
60g dried apricots, chopped 
bunch of fresh rosemary, finely chopped
salt + pepper, to taste 
small bunch of sage
seeds of 1/2 pomegranate 
METHOD:
Make a flax seed 'egg' by placing the flaxseed in a bowl and adding 2 tbsp of water. Stir and set aside for 5-10 minutes until the mixture thickens to form a gluey consistency. Heat the coconut oil in a small frying pan and fry the onion for a few minutes until it has softened.
Place the nuts in a food processor and pulse until they are coarsely chopped, then transfer about 4 tbsp of the mixture onto a plate and set aside. Add the cooked lentils, baobab, salt and pepper, breadcrumbs, rosemary, apricots, sage and flaxseed 'egg' to the food processor and pulse to combine the mixture, but be careful not to over process. 
Line a baking tray with greaseproof paper. Scoop the mixture out from the food processor and shape it into medium sized balls with your hands, rolling the balls in the chopped nuts before placing them on the baking tray. 
Heat the oven to 200C and bake the stuffing balls for 25-30 minutes until they have firmed up. Place in a serving dish and sprinkle with pomegranate seeds.
Enjoy!
Recipe by Aduna