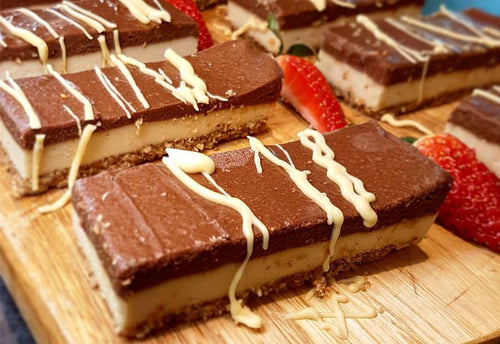 Raw Chocolate Caramel Slices
Decadent and delicious, these raw vegan chocolate caramel slices are made from all natural ingredients with an added dose of our favourite feel good fruit - baobab. Packed full of fibre, healthy fats, protein and vitamins and minerals, they are the perfect indulgent treat. 
Makes 16 slices 
Ingredients:
For the base:
1 cup oats
1/2 cup walnuts
1/4 cup almonds
3 figs
1 tsp vanilla extract
pinch of sea salt
1 tbsp coconut oil
1 tbsp plant milk 
For the white chocolate layer:
1 tbsp Aduna Baobab Powder
1 1/2 cups soaked cashews
1/4 cup lemon juice
5-6 tbsp maple or agave syrup
1/4 cup coconut oil
1/3 cup melted cocoa butter
pinch of sea salt
For the caramel layer: 
3 tbsp Aduna Super-Cacao Powder
150g dates
75g cashew or peanut butter
6 tbsp plant milk
1 tsp vanilla extract
5 tbsp coconut oil
Method: 
For the base:
Blend the oats in a food processor until you have oat flour. Add the rest of the base ingredients and blend until you have a sticky crumb mixture. Pour out into a lined oven tray and press down firmly. Try and get the edges as even as possible or you'll have uneven layers. Place in the freezer while you prepare the white chocolate layer.
For the white chocolate layer:
Blend all the white chocolate layer ingredients for a few minutes until you have a thick creamy mixture. You may have to stir around the sides a few time. Keep blending until you have no lumps, just a pure cream. Remove the tray from the freezer and spread evenly over the base. Again, make sure the edges are even. Place back in the freezer while you prepare the caramel.
For the caramel layer:
Add all the ingredients into a blender (melt the coconut oil first) and blend for a few minutes. You will have to stir a few times and blend again as it's very sticky. If you find the mixture is too thick add a small amount of plant milk. It will set solid once it's been in the freezer. Spread on top of the white chocolate and place back in the freezer for around half an hour. Gently cut around the edge of the tin and turn out the filling onto a plate or chopping board. Place a plate on top of the mixture and flip so it's up the right way.
With a sharp hot knife (rinse in hot water between slices to stop the layers mixing together) cut into equal slices. Drizzle with melted chocolate or add fruit or nuts to decorate.
Enjoy!
Recipe by aaroncaldervegan