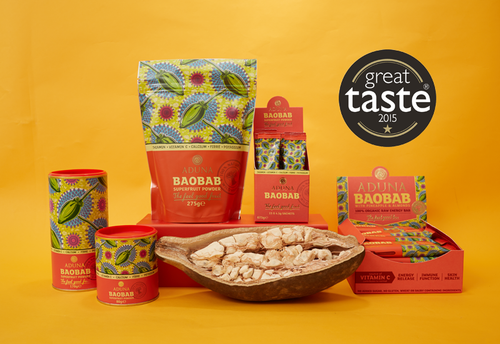 Where to buy baobab in London
You can buy Baobab in health and beauty stores across London including Holland & Barrett, Whole Foods, Planet Organic, Revital, Panacea, As Nature Intended and many other independent stores. Aduna Baobab is one of the only food items to be sold in the beauty halls of Liberty and Selfridges where you can find it in the "must-have" section thanks to its exceptional beauty boosting properties.
Aduna Baobab is available as a 100% natural Superfruit Powder ideal for sprinkling on cereal or yoghurt, or mixing into smoothies and juices, or try our Lemon, Ginger & Baobab Defence Super-Tea.
Rich in vitamin C, fibre and with the highest antioxidant content of any fruit, Aduna Baobab Superfruit Powder has been the best-selling superfood in London since 2013.
Head over to our store finder to find your nearest stockist, or order online with free delivery over £35 to any UK postcode or £75 for international.