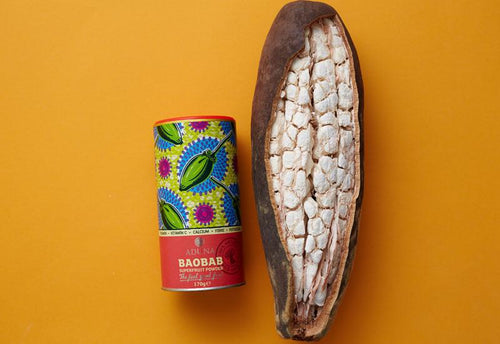 Baobab: The Immune Boosting Superfruit
With cold and flu season in full swing, it is more important than ever to ensure our immune systems are fighting fit.
Baobab fruit is exceptionally rich in vitamin C, which is essential for a healthy immune system. 
As baobab is a raw whole food, the vitamin C can be more easily absorbed than manufactured supplements. And it has a naturally long shelf-life, which could come in handy if you can't get hold of fresh fruit. 
What is Baobab? Baobab is the fruit of the African Baobab Tree (known as the "Tree of Life" and famous for being Rafiki's tree in the Lion King). Baobab fruit pulp dries in its hard coconut-like shell while hanging on the branch producing a natural fruit powder with a delicious citrus flavour. Baobab fruit powder is rich in vitamin C (at 266mg per 100g, it contains 5 x more vitamin C than an orange, which has 53mg per 100g (USDA)). It is also a rich source of prebiotic fibre, supporting the growth of beneficial probiotic bacteria in the gut. A healthy gut microbiome is also vital for a strong immune system.
Why Vitamin C? The human body cannot make or store vitamin C so we must rely on food to get a sufficient supply. Vitamin C is essential for a healthy immune system, encouraging the production of white blood cells that fight disease, attaching themselves to and killing, invading microbes. Vitamin C levels quickly become depleted when fighting viruses and infections so during cold and flu season we need it in even greater supply.
Dr Thomas Levy, a U.S. cardiologist and vitamin C expert told Vogue last week: "A strong immune system is really the only significant protection for an individual [from coronavirus]. And a great deal of immune system strength comes from the vitamin C content in the immune cells. When the levels of vitamin C in the body are low, the immune system can never function at full capacity."
Health Benefits: 100% natural, organic and vegan, baobab fruit powder is packed with natural goodness and is:
Rich in vitamin C (a single dose provides 26.6mg and the NHS recommends healthy adults have 40mg a day

¹

), supporting a strong immune system, energy release and healthy skin
Rich in fibre (two thirds soluble, prebiotic fibre) supporting gut health
As it is a natural source of these nutrients, it is more bioavailable than manufactured vitamin supplements, meaning our bodies can absorb the nutrients more easily, ensuring a greater uptake.
Aduna Baobab Fruit Powder and smoothie
Taste & How To Use: Baobab Fruit Powder has a delicious zingy sherbet flavour making it great for both adults and kids. Aduna Baobab Fruit Powder was the first superfood powder to win a prestigious UK Great Taste Award. Add 2 teaspoons (10g) of baobab powder to your morning smoothie or juice or sprinkle on yoghurt, cereal, porridge or wherever your imagination takes you! As baobab is a powder it has a naturally long shelf-life so is ideal if you can't get hold of fresh fruit. For ideas how to use baobab powder, check out our recipes.
Social Impact: Baobab trees grow in 32 African countries. There is no such thing as a baobab plantation. Every tree is community owned and wild harvested. Baobab trees have adapted to survive in the harsh environment of the African Savannah and produce their highly nutritious fruit in the middle of the dry season, when life is at its toughest. The fruits are so abundant that the majority currently goes to waste. Selling surplus fruits create valuable income streams for communities.
A global market for baobab fruit could provide sustainable incomes for 10 million rural African households from the existing crop alone.  At Aduna, we work directly with communities in Upper East Ghana and Centre-Sud Burkina Faso to harvest and process our baobab fruit powder. To date, we have created sustainable incomes for over 1,800 women, helping them provide basic needs like education, three meals a day and healthcare for their 11,000+ dependents. Find out more about our work with baobab in partnership with the groundbreaking Great Green Wall.
Aduna Baobab Producer Lardi Woebapora, Belo Community, Upper East Ghana 
Where to Buy Baobab: Aduna Baobab Fruit Powder is available from selected Sainsbury's, Ocado, Holland & Barrett, WholeFoods, Planet Organic, all good health stores and from our web shop with free delivery on orders over £35 (UK) and £75 (international).  
Sources
¹ https://www.nhs.uk/conditions/vitamins-and-minerals/vitamin-c/