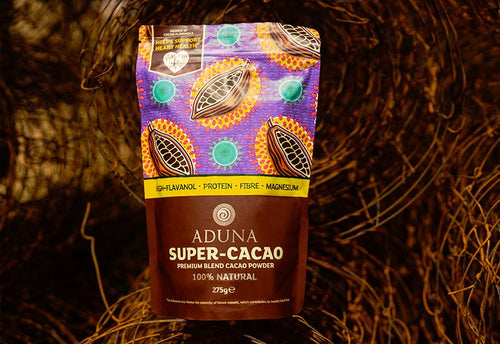 How cacao can reduce stress & boost your mood
From alleviating stress to improving our mood, the foods we eat play an important role in our mental as well as physical wellbeing. Cacao in particular is renowned for its happiness inducing properties - and for good reason.
THE SCIENCE: HOW CACAO AFFECTS OUR MOOD
Over 28,000 studies have been done on the health benefits of cacao, thousands of which examine the link between cacao and our mental wellbeing. A 2019 study by UCL found that eating dark chocolate can help reduce anxiety, positively affect mood and relieve symptoms of depression. The research compared chocolate consumption with depressive symptoms in 13,000 US adults. People who ate dark chocolate in the past 24 hours were 70% less likely to report feelings of depression.¹
Loma Linda University in California carried out research in 2018 which found that consuming dark chocolate has positive effects on stress levels, mood, inflammation, memory and even our immune system. In one study, researchers scanned the brains of five people who had eaten chocolate after two hours. They found changes usually seen when someone enters a meditative state.²
WHY IS CACAO SO GOOD FOR US?
Cacao powder is essentially the purest form of dark chocolate, made from milled unsweetened, unalkalised cacao beans. Pharmacist and Co-Founder of Victoria Health Shabir Daya explains why cacao is so beneficial: "Cacao powder is often labelled a "super-food" and with good reason. The cacao bean has over 300 identifiable compounds including vitamins, minerals, amino acids and phytonutrients. High in magnesium, zinc, iron, calcium, beta-carotene and omega 6 fatty acids, cacao powder provides these and other nutrients so that your body performs at its peak.
Cacao also contains anandamide, a natural euphoric compound. This means that cacao can act as a mood enhancer and unlike traditional drugs, it is without side effects. Another compound found in cacao beans is tryptophan, a potent natural antidepressant. This means that cacao has two mood enhancing compounds that can help you from feeling blue." ³
The beneficial natural compounds in cacao include flavanols, a plant-based antioxidant that supports a wide range of health benefits as well as serotonin, endorphins, phenylethylamine, tryptophan and anandamide, all of which have been shown to ease depression and create feelings of wellbeing and happiness⁴. It also contains a number of psychoactive ingredients which produce a feeling of euphoria similar to that of cannabinoid, found in cannabis and CBD, and phenylethylamine, a neuromodulator believed to be important for regulating people's moods⁵.
WHAT'S SO "SUPER" ABOUT ADUNA SUPER-CACAO?
Aduna Super-Cacao is particularly high in flavanols – in fact it is the only cacao powder in the UK to have an EFSA approved health claim thanks to its high flavanol content. We make it by blending high flavanol cacao powder made from specially  selected high-flavanol beans with luxuriously rich single-origin cacao from small-scale producers in Ghana. The result is a highly nutrient-dense, antioxidant-rich superior quality cacao powder with a delicious dark chocolate flavour.  
As well as helping enhance mood and boost serotonin levels, flavanols also support healthy blood flow, supporting our heart health and ensuring a healthy supply of oxygen, nutrients and water to all our organs - vital for our overall wellbeing. Per serving Aduna Super-Cacao is also a source of potassium and magnesium, both essential nutrients for normal psychological function and a healthy nervous system. It is also a rich source of plant protein supporting healthy cell growth and fibre, supporting a healthy gut. A genuine "super food"!
SUPER-CACAO TASTE & HOW TO USE
Aduna Super-Cacao Powder has a luxuriously rich dark chocolate flavour. Use it to make healthy hot chocolates, shakes, ice cream, energy balls or stir into yoghurt, cereal, overnight oats or porridge. Kids love it and it's a great way to get some more fibre and protein in their diets.You can also use it in place of regular cocoa powder in your favourite dessert or baking recipes for an extra nutrient boost.  We have over 75 delicious cacao recipes on our website to get you started!
WHERE TO BUY ADUNA SUPER-CACAO
Aduna Super-Cacao is available from all good health stores (visit our store locator to find your nearest stockist) or online via our web shop with free delivery on all orders over £35 (UK) and £75 (international).   
Sources
¹https://www.sciencedaily.com/releases/2019/08/190802145458.htm
²https://www.thetimes.co.uk/article/it-s-official-chocolate-is-the-key-to-your-happiness-bx7prxc9k
³ https://www.victoriahealth.com/editorial/the-benefits-of-raw-cacao-powder
⁴ https://sheerluxe.com/2017/03/22/best-superfoods-buy
⁵ https://neurosciencenews.com/dark-chocolate-depression-14641/