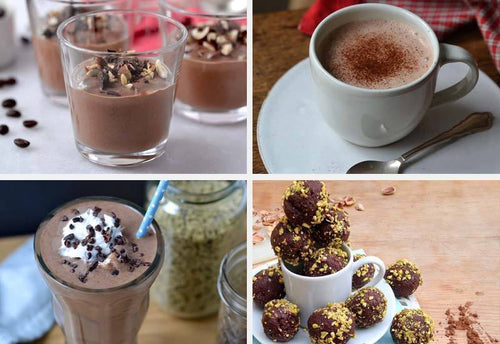 How to use Aduna Super-Cacao:
5 easy ways
Aduna Super-Cacao Powder has a delicious rich, chocolatey taste. 
To reap the heart health benefits of Super-Cacao, simply mix 2 teaspoons into hot or cold milk and sweeten to taste (make a paste first to avoid lumps before topping up your glass - or use a whisk). We like ours with a few drops of vanilla essence and a sprinkle of cinnamon.
Aduna Super-Cacao is perfect for making delicious homemade desserts, healthy hot chocolate or your favourite baked treats. Simply substitute cocoa for cacao (1:1 ratio) - think of it as a nutritious alternative to cocoa powder! 
It is 100% natural, vegan, contains no additives, preservatives or added sugar and is gluten and dairy free. 
Below are some of our favourite ways to use Super-Cacao.
4 EASY WAYS TO USE ADUNA SUPER-CACAO
SPRINKLE... onto cereal, yoghurt, porridge and fruit 
MAKE... into hot chocolates, mochas & healthy desserts
BLEND... into sauces, shakes, smoothies & ice creams
BAKE... into cakes, cookies, biscuits & brownies
Heat does not affect the efficacy of the flavanols. However, for maximum flavanol content, avoid cooking for prolonged periods at very high temperatures.
Use as part of a balanced diet and healthy lifestyle.
SUPER-CACAO RECIPES
You can find lots of delicious Super-Cacao recipes on our website here.
Warm up this winter with our NEW Cinnamon Spiced Cacao Super Tea.
Satisfy snack cravings with these healthy Cacao, Clementine & Pistachio energy balls.
Or try making this delicious dessert: Cacao & Hazelnut Mousse.
You can also find plenty of recipes by following @adunaworld on Instagram, Twitter or Facebook  Don't forget to tag us in your recipes to be in with the chance of winning a 275g pouch of your favourite super-ingredient.