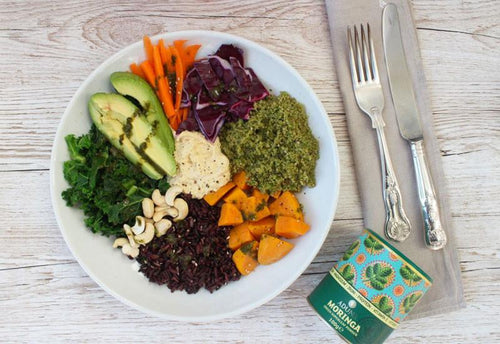 3 Ingredient Moringa Dressing
This simple 3 ingredient moringa dressing is perfect for drizzling over salads and is a great way to incorporate moringa into your diet if you're not a regular green smoothie or juice drinker! The vitamin C from the lemon juice also aids the absorption of iron from the moringa into your body, so it really is an all round winner! Drizzle away over macro/Buddha bowls, grains, veggies, salads or fish. 
Serves 1
Ingredients:
For the ancient grains Buddha bowl:
cooked black rice
boiled sweet potato
cooked quinoa with moringa pesto
raw red cabbage, washed & chopped 
raw carrot, peeled & sliced 
avocado  
steamed kale
unsalted cashews 
sesame seeds
hummus
salt & pepper, to taste
For the moringa dressing:
1/2-1 tsp Aduna Moringa powder
2 tsp extra virgin olive oil
juice of 1/2 lemon 
Method: 
Assemble all the Buddha bowl ingredients in a bowl.
Place all the dressing ingredients in a small bowl and whisk well with a fork until fully combined. Drizzle over the Buddha bowl and season with salt and pepper. 
Enjoy!
Recipe by Aduna