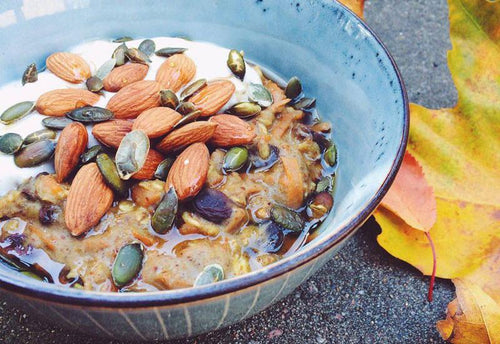 Carrot Cake Oats with Cream Cheese Frosting
Have your cake and eat it too with 
this healthier take on the classic teatime favourite. I
nspired by the rich flavours of carrot cake, these breakfast oats combine cooked carrot and raisins with warming spices to create a tasty and comforting breakfast. Top with vegan cream cheese icing and toasted nuts for the full carrot cake experience! 
Serves 1  
INGREDIENTS:
For the frosting:
3 tbsp vegan cream cheese 
2 tsp pure maple syrup
For the oats: 
2-3 tsp Aduna Baobab Powder
1 cup dairy-free milk 
1 carrot, peeled and grated 
3 tbsp raisins
1/3 cup jumbo oats 
1 tbsp milled flaxseed
spices to taste (cinnamon, ginger, nutmeg, cloves)
For the topping:
handful of nuts and seeds of your choice (almonds, walnuts, pecans, pumpkin seeds, sunflower seeds, etc.)
METHOD:
Stir together the maple syrup and cream cheese for the icing and refrigerate.
Heat the milk in a saucepan over medium-low heat and add the spices and grated carrot. Let it simmer for a few minutes before adding the raisins and simmering for another 5 minutes. Stir in the oats and flaxseed and cook until the texture is to your liking (approx. 5-7 minutes).
While this is cooking, toast the nuts and seeds in a nonstick pan over low heat, tossing frequently so they don't burn.
Remove the porridge from the heat and stir in the baobab powder. Spoon the porridge into a bowl, top with the icing, and sprinkle with nuts and seeds. Add an extra drizzle of maple syrup if you want a touch more sweetness.
Enjoy!