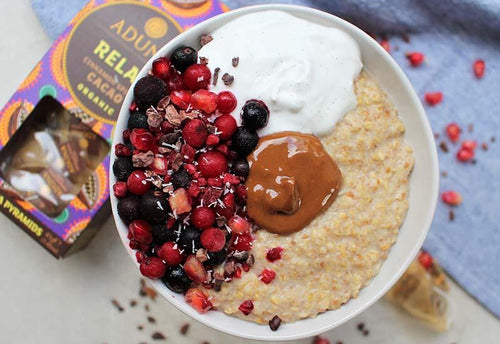 Cinnamon Spiced Cacao Porridge
This isn't just a warm bowl of porridge. This is a cacaolicious bowl of oats simmered in our Cinnamon Spiced Cacao Tea and topped with nutty almond butter, juicy berries, sweet vanilla yoghurt and yes, more chocolate! Breakfast doesn't get any better than this.
Serves 1
Ingredients:
1 Aduna Cinnamon Cacao 'Relax' Tea pyramid
200ml coconut milk
50g rolled oats
1 tbsp ground flaxseed
1 tsp maca powder
To serve:
vanilla coconut yoghurt
cacao nibs
berries
almond butter
desiccated coconut
Method:
Warm the tea pyramid with the milk in a small saucepan for approx. 5 minutes over a gentle heat.
Remove the tea pyramid and add the oats, ground flaxseed and maca powder. Stir until smooth and creamy for approx. 5 minutes.
Serve in a bowl with your favourite toppings.
Enjoy!
Recipe by Nourishing Amy