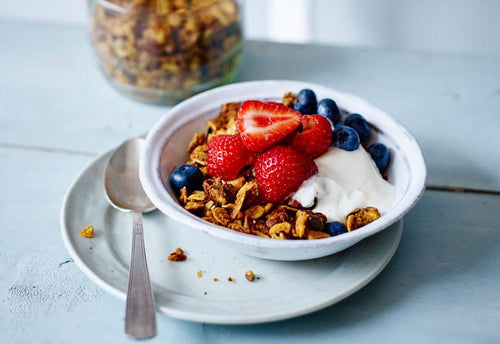 Pumpkin, Cacao & Cinnamon Paleo Granola
This gut-healing recipe is taken from British nutritionist and chef Christine Bailey's book The Gut Health Diet Plan: Recipes To Improve Digestive Health And Boost Well­being. We love the combination of Super-Cacao and pumpkin - a great way to sneak vegetables into a chocolatey breakfast! 
"Coconut and nuts form the base of this tasty grain-free granola with puréed pumpkin. If you use tinned pumpkin, check that it doesn't contain sweeteners or sugars. We also like to add a spoonful of raw cacao powder for chocolatey goodness, plus baobab for its vitamin C content which is fabulous for adrenal health" - Christine Bailey. 
Makes 12 servings
INGREDIENTS
1 tbsp Aduna Super-Cacao Powder
2 tsp Aduna Baobab Powder 
55g coconut flakes
120g ground almonds
100g flaked almonds
60g walnuts, chopped
120g cup pumpkin seeds (or mixed sunflower, sesame and pumpkin seeds)
2 tbsp ground flaxseed
125g pecan nuts, chopped
100g tinned pumpkin purée (or steamed/baked and puréed pumpkin) 
60g coconut oil, melted
2 tbsp maple syrup (or yacon syrup, coconut syrup, honey) 
1 tbsp vanilla extract
a pinch of sea salt
2 tsp ground cinnamon
METHOD
Preheat the oven to 180°C/350°F/Gas 4 and line a baking sheet with baking parchment. Put the coconut flakes in a large bowl and add the almonds, walnuts, pumpkin seeds, flaxseed and pecans. Mix well.

Put the pumpkin into a blender or food processor and add the coconut oil, maple syrup, cinnamon, salt and superfood powders. Blend to combine.

Pour the pumpkin mixture over the nut mixture and stir, using a wooden spoon, until thoroughly coated.

Spread the granola in a thin layer on the baking sheet. Bake for 30 minutes or until lightly golden, stirring occasionally to prevent burning. Leave to cool. Store in an airtight container for up to 2 weeks.
Enjoy! 
Recipe by Christine Bailey
The Gut Health Diet Plan: Recipes To Improve Digestive Health And Boost Well­being. By Christine Bailey, Nourish Books. May 2016. ISBN-10: 1848997337.