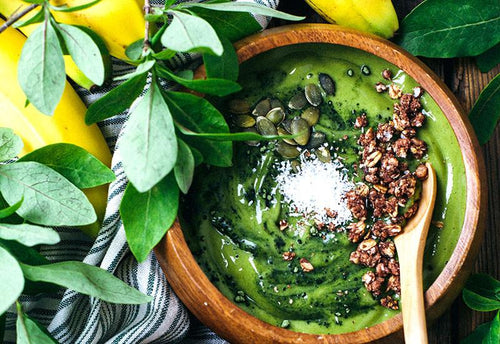 Summer Green Moringa Smoothie Bowl
There is nothing better than starting the day with a nourishing, super-charged green smoothie bowl. This creation by Aduna Feel Good Triber Lucie is packed full of goodness, wonderfully simple to make, and with your daily dose of moringa and leafy greens, it'll help to nourish your skin from the inside out. 
Serves 2
Ingredients: 
1 tbsp Aduna Moringa Powder
1 banana
1 small, fresh mango, cut into chunks
1/2 medium cucumber, sliced
big handful of kale, stems removed (or spinach)
⅓ cup almonds (ideally soaked and drained)
2 tbsp hulled hemp seeds 
2 cups plant-based milk
pumpkin seeds, desiccated coconut + your favourite granola for topping
Method:
Place all the ingredients into a high-speed blender and blend until smooth and creamy.

Add more water or plant-based milk if needed. Pour into bowls and top with the pumpkin seeds, coconut and granola.
Enjoy! 
Recipe by The Glow Within