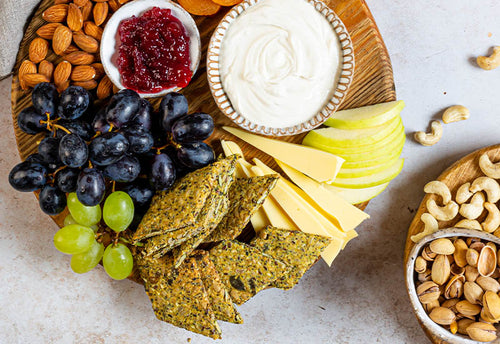 Fonio & Moringa Crackers
These nutritious crunchy crackers are packed with fibre, protein and a whole load of deliciousness. Try them with your favourite cheese and dips!
Makes 10
Ingredients:
For the crackers:
3/4 cup of Aduna Fonio Super-Grain, blended into a flour
1 tsp Aduna Moringa Powder
1 cup of pumpkin seeds
3/4 cup of sunflower seeds
1/2 cup of linseed, whole seeds
1/2 cup of chia seeds
1/3 cup gluten free quick oats
2 tbsp poppyseeds
1/2 tsp salt
1/2 tsp pepper
1/4 tsp turmeric powder
2 tbsp chilli olive oil, or plain olive oil
1/2 cup of water
For the cheese board:
Nuts
Dried fruit
Fresh fruit
Vegan cheese
Method:
Preheat the oven to 190°. Mix all the dry ingredients in a bowl.
Add olive oil and water, combine well until it forms a dough (use more water if needed).
Divide the mixture into two parts. Take one half and place inbetween to pieces of parchment paper and roll out the dough, approx 2-3mm thick.
Cut into your desired shape and transfer them onto a baking tray. Repeat the steps with the second half of the dough. Bake for 20-25mins or until the edges are golden brown.
Leave to cool for 10mins. Serve with a selection of fruits, nuts, cheeses and dips.
Enjoy!
Recipe by Ania's Vibrant Kitchen