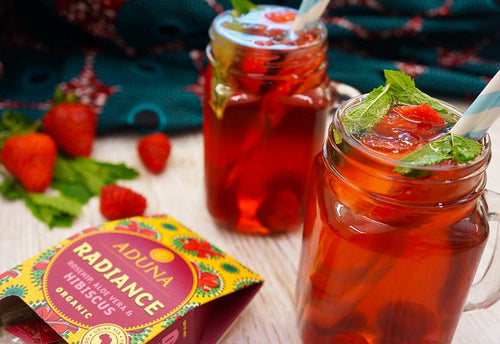 Hibiscus & Berry Iced Tea
Stay hydrated with our Radiance Super-Tea with a sparkling twist. 
Refreshing and berrylicious, this brew is a must-try this Summer (and every Summer after that)! 
Makes 1 litre
Ingredients:
2 tea pyramids of Aduna Radiance: Hibiscus Super-Tea
200ml, freshly boiled water
800ml, sparkling water
strawberries, sliced
raspberries
To serve:
mint leaves
ice cubes
Method:
Pour boiling water over the tea pyramids, strawberries and raspberries in a heatproof jug and allow them to brew for at least 10 minutes. Remove the tea pyramids, stir and allow the tea to cool before topping up with sparkling water. 
To serve, add ice cubes and garnish with mint leaves (for that Instagrammable snap).
Enjoy!
Recipe by Aduna