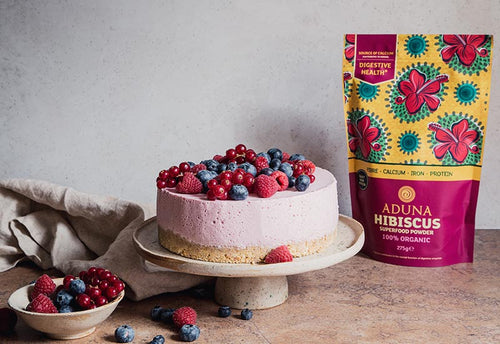 Vegan Hibiscus Cheesecake
This refined sugar-free vegan cheesecake ticks all the boxes with its crunchy base and sweet & tangy cream layer - topped with vibrant fresh fruit for a stunning finish. A healthy but decadent option for special occasions.

Serves 8-10


Ingredients:
For the base:
200g vegan biscuits
60-70g coconut oil or vegan butter, melted


For the filling:
500 ml coconut cream, chilled overnight
200 ml coconut milk or cream
3-4 tbsp maple syrup, or any other sweetener
4 tbsp of agar agar
Pinch of salt

To serve:
fresh fruit


Method:
For the base:
In a food processor/blender, blend the biscuits until it resembles breadcrumbs. Melt the oil or butter, add it to the biscuits and mix with the fork until everything is well combined.
Press the mixture into the bottom of a 20m cake tin to form a nice and firm base. Refrigerate for a few minutes.
For the filling:
Add the coconut cream/milk and agar agar into a saucepan over medium heat. Bring it to a boil and allow to simmer for 2-3 min, stirring occasionally. Allow to cool.
Whilst the mixture is cooling, add the chilled coconut cream and the maple syrup to a bowl. Using a hand mixer, mix for about 7 minutes or until it forms soft peaks.
Once your cream is whipped, gradually add the mixture from the saucepan and mix until everything is well combined
Transfer cream filling to a baking tin on top of the crust.
Refrigerate for a minimum of 4 hours or leave it overnight
Top with fresh fruit before serving.
Enjoy!