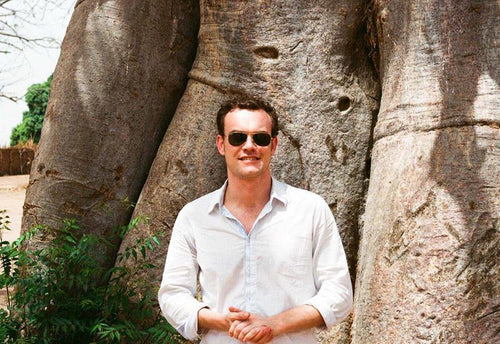 Aduna Co-Founder Andrew Hunt: My Story
The media is abuzz this week with talk of mental health due to it being Mental Health Awareness Week. Whilst it's true that many of us are prone to a feeling of dispirtedness at some point in our lives, I know from experience just how serious genuine clinical depression is. I suffered from the illness myself sixteen years ago.
Luckily for me I was offered the opportunity of a lifetime in The Gambia, West Africa. It was this place and its people which gave me a completely new lease on life, an all-consuming passion for Africa, and the inspiration to create Aduna. 
From city ad exec to rural Africa
Aged 24, I had somehow found myself living in a state of extreme physical anxiety and self-loathing. Despite my positive nature and successful career, my mind had inexplicably transformed itself into a dark, malicious computer; fixated on gathering evidence to prove one undeniable truth – that I was a completely worthless human being.
One day, completely out of the blue, my phone rang. It was my godmother's son, Angus. In partnership with a charity, his company had founded a social enterprise in The Gambia, working with small-scale farmers. If they covered my expenses, would I be interested in volunteering?
The answer, of course, was no. At that point I was not interested in anything, least of all a fruit and veg project in some god-forsaken outpost in Africa. I imagined myself holed up alone in a dirty, lifeless apartment; isolated and alienated from the scary inhabitants of a dark, abandoned city. What could possibly be worse? No, I would not be going anywhere.
Fortunately for me, however, my friends and family had other plans - and I ended up on the plane. Five hours later, I arrived in The Gambia - a tiny stretch of land they call 'The Smiling Coast' - an irony that wasn't lost on me considering the state of clinical depression I was in.
The warm embrace of "The Smiling Coast"
After six full months of unsuccessfully trying everything from anti-depressants to faith healers, it took just three weeks in the warm embrace of The Gambia to bring me back to life. As long as I live, this will always represent something of a miracle. What was it about The Gambia that had this magical effect on me?
Firstly, there is that big yellow thing in the sky that rises every morning, without fail. God, what a difference that one thing makes. It was a life lived outdoors, in glorious technicolour. On the porch, in the streets, at the beach. Always outside, and always with other people.
And the 'other' people. So warm, friendly and welcoming. So generous in how they chose to perceive me, that they went beyond simply giving me the freedom to be myself, and actually re-created me as someone new and improved. Every day, when returning from work, instead of retreating into a solitary urban pod, as I had done in London, I was greeted by dozens of people, invited to share green tea or chat under the shade of a palm tree. I quickly developed a true sense of community and belonging. Loneliness was simply not an option.
In the face of all this positivity, my depression didn't know quite what to do. How exactly do you act depressed in the face of fifteen exuberant and beautiful small children running, jumping, cheering, shouting, singing, clinging on to your legs, and generally expressing delight at your very presence? It's actually not very easy. I realised that it was not so much the depression that had me in its grasp, as that I was clinging to the depression, and all I actually had to do was just let go.
I will never forget the magical feeling as I walked through the sandy streets of Kanifing, listening to Massive Attack's 'Unfinished Sympathy', my whole body engulfed by the early morning sunshine, when it suddenly dawned on me that I was no longer depressed. Absolutely everything around me sprung into life and was transformed into energy. I woke up to myself and, simultaneously, I woke up to Africa. Wow. What a buzz.
Aduna: connecting rural producers to global markets
What got me most inspired, however, was realising that I could make a difference to other people through the creative act of entrepreneurship. In my previous life I had never considered doing anything to help anyone, and I had no idea how good that actually feels.
In my own ambitious vision for Aduna, the company I founded when I returned from Gambia, I endeavour to ensure that I never lose sight of this insight – something that can happen all too easily amidst the hustle of London life.
Aduna is an Africa-inspired health food brand and social business that connects rural producers in Africa directly with the global health food market. Our mission is to bring you the natural vitality of Africa's ancient ingredients, while creating sustainable livelihoods for small-scale producers.
Aduna means 'life' or 'world' in Wolof, one of the main languages of Gambia and Senegal, and it embraces a beautiful philosophy of how we should live our lives here on earth. In personal terms, Aduna the brand is my way of sharing with the world what Africa gave me – which is nothing less than life itself.
The Inspiring Possibility of Baobab
On a brand level, our mission is to breathe the vibrancy of Africa into the daily lives of people all around the world, whilst creating a virtuous circle that feeds positive impacts back to the source.
Our hero ingredient baobab, 'The Feel Good Fruit', is one of the most nutrient-rich foods in the world. It has the potential to bring health and vitality to our customers while providing sustainable incomes to 10 million rural households.
It's a vision that we find truly inspiring — and we hope you do too.